Takao Kawaguchi's About Kazuo Ohno
Oct 13, 2016 8:00 pm - 10:00 pm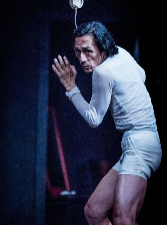 The Warhol will partner with The Japan-America Society of Pennsylvania and The Asian Studies Center of the University of Pittsburgh to welcome experimental theater artist and dancer Takao Kawaguchi with his solo performance tribute to legendary Japanese butoh dancer Kazuo Ohno, who passed away in 2010 at age 103. Kawaguchi mirrors and re-constructs Ohno's movements based on video recordings of performances of early masterpieces including Admiring La Argentina (1977), My Mother (1981), and Dead Sea, Ghost, Wienerwaltz (1985). Kawaguchi is also a former member of the Japanese performance collective, Dumb Type, and is former director the Tokyo International Lesbian and Gay Film Festival.
This seven-city tour of Takao Kawaguchi's About Kazuo Ohno is produced and organized by Japan Society, New York and supported by The Japan Foundation Performing Arts JAPAN Program and the Agency for Cultural Affairs, Government of Japan in the fiscal year 2016.
Parking is free in the Warhol lot.  Tickets can be purchased at through the Warhol.